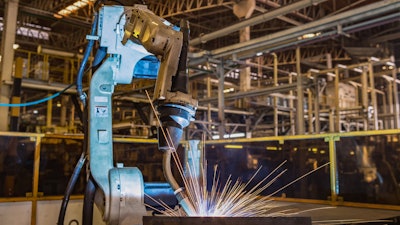 iStock
Amazon on Monday announced a new service on its cloud computing platform to support robotics developers.
Officials said AWS RoboMaker extends the Robot Operating System — the most common open-source robotics software — to Amazon Web Services' machine learning and analytics capabilities.
AWS RoboMaker's integrated software and services, they added, would help engineers develop, evaluate and deploy robotics applications at scale more quickly.
"We believe AWS RoboMaker will be impactful to advanced robotics operations across the world by greatly decreasing cost and time to production," Amazon vice president and robotics engineer Brad Porter said in a statement.
The company said customers can begin initial application development with a single click in the service's console. AWS RoboMalker automatically implements the underlying infrastructure and downloads relevant software, while its simulation capabilities allow developers to assess applications in numerous scenarios.
The service also offers fleet management to help deploy, monitor and update robots. Extensions available with the service, meanwhile, include image and video recognition and speech recognition and generation.
The company is participating in building the next edition of ROS software and said its RoboMaker cloud extension source code and documentation would be made publicly available.
Several companies detailed their plans to utilize AWS in robotics applications in the announcement, including tool manufacturer Stanley Black & Decker and in-home assistant platform Robot Care Systems.
"With AWS RoboMaker, we are able to easily test the robotics related software applications in a cloud environment, and rapidly generate synthetic imaging data to train our 3D site model creation algorithms," said Stanley Black & Decker's Hamid Montazeri.