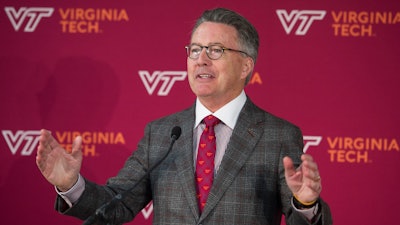 AP Photo/Cliff Owen
As he assessed his state's winning effort to lure 25,000 Amazon jobs to northern Virginia, Gov. Ralph Northam said the key may not have been the hundreds of millions of dollars that were promised if the company delivered on its job-creation promises — indeed, many states offered much richer incentive packages.
Instead, he said what made Virginia's bid distinct was "investments in our people," particularly a $1 billion Virginia Tech University graduate campus to be built near the new Amazon headquarters that will churn out hundreds of qualified high-tech workers annually.
"Virginia's proposal to Amazon represents a new model of economic development for the 21st century," Northam said in a celebratory press event Tuesday in an old warehouse that will be knocked down to create Amazon office space. "The vast majority of the commonwealth's proposal is investments in our people that will align with Amazon's long-term goals."
The linchpin of that investment is the "Innovation Campus" planned for the Potomac Yard neighborhood of Alexandria, just a couple miles south of where Amazon will be.
The campus will be part of Virginia Tech, and the first 100 master's degree students will enroll next year in temporary space. When it's finished, the campus will enroll 750 master's degree candidates, train hundreds of doctoral students and will include on-campus housing, officials said.
Stephanie Landrum, director of economic development in Alexandria, suggested that when Virginians look back on Tuesday's announcement, the establishment of the Virginia Tech campus may be even more monumental than Amazon's arrival. She said the campus will not only feed Amazon but other tech companies that have been drawn to the region, and are diversifying the region's economy from its large reliance on the federal government and defense spending.
Rep. Don Beyer, a Democrat who represents the area, said he expects the campus to eventually rival Ivy League schools and MIT in prestige for developing high-quality tech workers.
"The reason Amazon is coming is that they see already the talent that is here in northern Virginia," Beyer said.
Virginia Tech said the plans for the Innovation Campus mesh perfectly with the university's longstanding plans to increase its footprint in northern Virginia and meet demand for computer science and other high-tech degrees. Amazon's other new headquarters will be built in a New York City neighborhood that is near a new technology-oriented graduate school called Cornell Tech.
"We need to be where our partners are," said Virginia Tech President Tim Sands. "Here we have the opportunity to be within 2 miles of Amazon."
The plan calls for the state and Virginia Tech to each commit $250 million to the campus. The rest will be raised through philanthropic efforts and public-private partnerships, officials said.
In neighboring Arlington County, where Amazon will be physically located, officials echoed the sentiment that the incentives offered to Amazon mesh with existing plans for infrastructure and transportation improvements, and long-term plans to remake the Crystal City neighborhood.
Arlington's incentive package — which includes hundreds of millions in transportation improvements, many of which were already included in long-range plans — is designed not so much to lure Amazon with cash but to ensure Amazon and the county have a mutually beneficial environment, said Arlington County Board Chair Katie Cristol.
"This announcement not only aligns with our existing plans and serves Amazon's needs but will also benefit our Arlington community," Cristol said.
Still, the incentive package was met by some with skepticism that the planned transportation improvements will be insufficient to alleviate traffic and that the incentives still amount to corporate welfare.
"We're going to be enriching some of the wealthiest people in the world at the expense of Virginians who work hard to make ends meet," said Del. Lee Carter, a Democrat who represents Manassas and bills himself as a democratic socialist. "We're going to crowd schools, clog roads, and we're paying for the privilege."