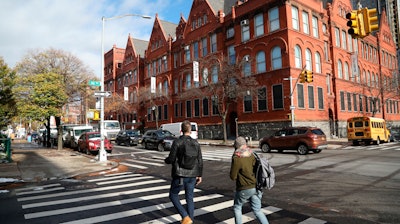 AP Photo/Mark Lennihan
New York Gov. Andrew Cuomo says a deal to bring Amazon's second headquarters to Queens will cost the state "nothing" — even though taxpayers will be on the hook for $325 million in direct grants to the company.
Cuomo, a Democrat, went on New York City public radio Monday to defend the agreement, which also envisions $1.2 billion in state tax credits and more than $1 billion in additional incentives from New York City. Cuomo said despite the large investment, the city and state will come out ahead when billions of dollars in new tax revenues and economic activity from the company and its employees are factored in.
"These people who come to New York ... they are going to be net positives, not net negatives," Cuomo said on WNYC radio. "They're going to bring wealth. They're going to be earning wealth. And that's going to be a stimulus, not a detraction."
Critics of the deal say the state is giving away far too much to lure one of the world's biggest companies to the nation's largest city and financial center. As part of its expansion, Amazon is also planning a campus in Washington D.C.'s Virginia suburbs.
The total value of the New York incentive package to Amazon could top $2.8 billion. In addition to nearly $1.53 billion in tax credits and grants offered by the state, Amazon would also qualify for two big tax breaks from the city. If the company follows through on a promise to create 25,000 high-paying jobs in Queens, it would qualify for a city income tax credit of nearly $900 million over 12 years.
And on top of that, it would get a 15-year property-tax abatement worth an estimated $386 million.
Last week, Cuomo claimed the deal would end up costing the state nothing when the incentives are offset by the benefits. According to his administration, the tax credits as well as the direct grants will be given to the company only when it hits certain benchmarks. Officials also note that the incentives are part of pre-existing economic development programs that have been used to lure other companies to the state.
"This is a big moneymaker for us," he said. "It costs us nothing — nada, niente, goose egg. We make money doing this."
The governor's optimism hasn't stopped some lawmakers from criticizing the incentives as overly generous. They've also blasted the secretive process by which the terms of the incentives were negotiated between Cuomo's administration and Amazon.
Democratic state Sen. Michael Gianaris said Monday he will introduce legislation that would prohibit non-disclosure agreements between the state and private corporations seeking incentives. Gianaris said the idea is to ensure the taxpayers know exactly how much they could be paying before the deal is inked. State officials have defended the secrecy.
"Corporate interests should not have the power to dictate to our governments when they should withhold important information from the public they serve," Gianaris said in a statement. "The secretive process surrounding the Amazon deal sets a dangerous precedent that must be prohibited so that our government answers to the people, not wealthy corporations."