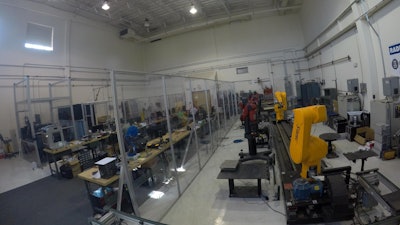 UNM/AFRL Agile Manufacturing Lab
University and military researchers hope a new laboratory in Albuquerque will ease the process from design to production in advanced aerospace and energy systems.

The Albuquerque Journal this week outlined the Agile Manufacturing Lab, which was established through a partnership between the University of New Mexico and the Air Force Research Laboratory.

The center, located in the university's technology research park and funded through a five-year, $6.7 million grant from the Air Force, will feature six industrial robots, two 3D printers and a central computer system — located in the campus' engineering building — capable of running the lab remotely.

Engineers hope the robotics and machine learning capabilities will accelerate the development of new systems in satellite defense, lasers and microwaves — by academic, government and private sector researchers alike.

Officials also expect new advances to help bring down costs and prepare UNM students for the next wave of manufacturing jobs.

"There's a huge learning curve to figure out how to create whole, integrated systems for design and production," Christos Christodoulou, the dean of New Mexico's Electrical and Computer Engineering school, told the paper.

Researchers plan to combat that steep learning curve with the lab's three pairs of robots.

The first — two Baxter robots developed by the now-defunct Rethink Robotics — help developers create assembly processes, while the second pair features sophisticated, laser-based sensors to quickly and accurately conduct repeat procedures.

The third pair of robots, officials told the paper, will be able to put together a complete satellite or other assembled product.

The printers, meanwhile, will churn out components from both standard or advanced materials, researchers added.

"We'll bring companies directly on board to incorporate it into their production process," Christodoulou told the Journal.