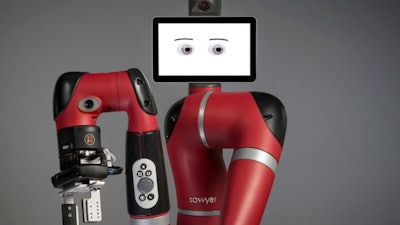 Rethink Robotics
Collaborative robot maker Rethink Robots unexpectedly closed up shop this month after a decade of promising developments in industrial automation.

Scott Eckert, the chief executive of the Massachusetts company, told the Boston Globe that sales of the company's Baxter and Sawyer robots failed to meet expectations, resulting in a dwindling cash supply despite investments from Goldman Sachs, GE, Amazon founder Jeff Bezos and other venture firms over the years.

Eckert said the decision to shut down came after a deal to acquire the company fell through.

"We got out a little early with a very, very innovative product, and unfortunately did not get the commercial success that we expected to get," Eckert told the paper.

Rethink, founded by MIT roboticist and iRobot founder Rodney Brooks, debuted Baxter in 2012 and Sawyer three years later. Although Sawyer featured a smaller footprint and longer arms, both robots could be deployed in a few hours' time to reliably and safely perform tasks alongside human coworkers.

The company's futuristic designs drew substantial attention, but they also faced competition from global robotics giants and, the Globe noted, suffered after a distribution deal in China fell apart.

Eckert said the company plans to sell off its intellectual property. The decision to shut down affects 91 employees in Boston, but he suggested most would be sought out by rival robotics firms.