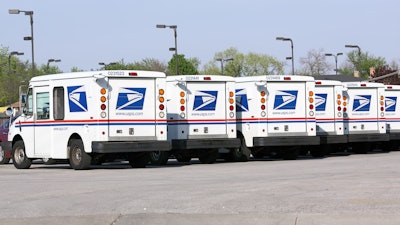 iStock
The U.S. Postal Service will deliver some packages with help from self-driving technology in coming days, the agency's contractor announced this week.

TuSimple, a self-driving truck startup based in San Diego but operating out of Arizona, said its trucks would haul USPS trailers for five round-trip autonomous journeys between distribution centers in Phoenix and Dallas as part of a two-week pilot project.

The startup said a series of its trucks would run for 22 hours, including overnight driving, along Interstates 10, 20 and 30. A driver and safety engineer will be on board for the pilot trips, but TuSimple eventually hopes its technology will allow companies to conduct similar long-haul, short-turnaround routes without the need for a pair of drivers.

TuSimple says its autonomous driving systems can maneuver from stop to stop using proprietary AI and the ability to detect objects from 1,000 meters away even in adverse weather or nighttime driving. The USPS pilot, officials said, would allow the company to validate its technology and move more quickly toward commercializing it.

The Postal Service, meanwhile, hopes self-driving technologies will help save fuel costs, bolster the use of its vehicle fleets and improve safety.

"It is exciting to think that before many people will ride in a robo-taxi, their mail and packages may be carried in a self-driving truck," Xiaodi Hou, TuSimple's founder, said in a statement.