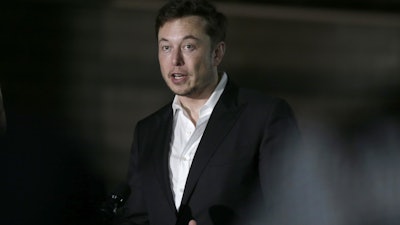 Kiichiro Sato/Associated Press
If Tesla CEO Elon Musk wants to return as chairman, shareholders will have to vote on it.
The requirement is detailed in a court brief filed jointly on Thursday by Tesla and the Securities and Exchange Commission. The brief was required by a federal judge who must approve a securities fraud settlement reached with Musk and the company last month.
Musk and Tesla agreed to pay $20 million each and make concessions to settle an SEC lawsuit alleging Musk duped investors with statements about a plan to take the company private.
The settlement allows Musk to remain CEO but requires him to relinquish his role as chairman for at least three years. After that time, a majority of shareholders must approve Musk's return to lead the company's board.
U.S. District Judge Alison Nathan ordered the brief to show the settlement was "fair and reasonable," which is a common practice in the court. She has yet to rule on the agreements with Musk and Tesla.
The SEC accused Musk of committing securities fraud due to an Aug. 7 tweet in which he declared he had secured to finance taking the company private at $420 per share, a huge premium over the stock price at the time.
The commission alleged that Musk hadn't locked up the estimated $25 billion to $50 billion that it would have required to pull off that deal, and wanted to punish him by forcing him out as Tesla's CEO.
Initially rejecting an SEC offer to settle the case, Musk relented two days after the fraud complaint and agreed to resolve the matter by paying the penalty, stepping down as chairman and agreeing to oversight about his communications on company news.
But the deal didn't prevent the free-wheeling Musk from continuing to speak out about other subjects, apparently to include mocking the SEC.
No mention was made in the brief about Musk insulting the commission on twitter Oct. 4, so he apparently won't face any punishment for that. The SEC wouldn't comment Thursday.
Musk taunted the securities agency just days after the Sept. 29 settlement was announced, calling it the "Shortseller Enrichment Commission" before snidely praising it for "doing incredible work."
The tweet stoked Musk's long-running feud with short sellers, a category of investors that have been betting on Tesla's stock to fall.
Chester Spatt, finance professor at Carnegie Mellon University and former SEC economist, said the shareholder vote requirement shows the SEC is protecting investors.
"It's a good reminder to the board that ultimately it is the stockholders that matter," he said.
Spatt said Musk insulting the SEC was "boneheaded," but didn't violate securities laws. "That tweet was just him exercising his free speech rights."
Musk, 47, has rarely seemed hesitant to make provocative statements to his more than 22 million followers on Twitter. He is now defending himself against a defamation lawsuit filed by a diver who helped save 12 boys on a Thai soccer team from a flooded cave. Musk described the diver as a pedophile in a tweet that has since been deleted.
As part of Musk's settlement with the SEC, Tesla is supposed to monitor its CEO's Twitter posts, but only those that have to do with company news.
Shares of Tesla closed Thursday down 1.8 percent at $252.23 as the Dow Jones Industrial average dropped over 500 points.