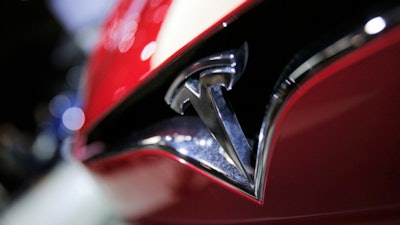 Christophe Ena, Associated Press
Tesla is reporting encouraging production figures for its third quarter as founder Elon Musk tells employees to work hard to prove "the naysayers wrong."
Tesla announced Tuesday that it produced 80,142 vehicles in the third quarter, which is 50 percent more than the previous quarter.
The company made 53,239 Model 3 vehicles, in line with its outlook for 50,000 to 55,000, and nearly double the second quarter's volume.
It produced 26,903 Model S and X vehicles. That's slightly better than its second-quarter performance and in line with its full-year guidance. The company's target of 100,000 Model S and X deliveries in 2018 remains unchanged.
Tesla delivered 83,500 vehicles in the third quarter, which is more than 80 percent of the vehicles that it delivered all of last year.
In a Sept. 30 email, filed with the U.S. Securities and Exchange Commission on Monday, Musk said the electric car maker is nearing profitability.
"We are very close to achieving profitability and proving the naysayers wrong, but, to be certain, we must execute really well tomorrow (Sunday)," Musk's email said.
"If we go all out tomorrow, we will achieve an epic victory beyond all expectations. Go Tesla!!!"
Tesla Inc.'s stock has been fluctuating since the August tweet. Tesla has racked up deep losses, announcing in August a record $717.5 million net loss for the previous quarter.
But Musk has pledged to post profits in future quarters and the encouraging third-quarter production numbers may set the stage for Tesla to post a third-quarter profit. Tesla isn't expected to release its third-quarter financial performance until early November.
The SEC filed a lawsuit last week, saying Musk's tweet in August about taking the company private constituted securities fraud because Musk knew he hadn't lined up the money for the deal.
Musk reached a settlement with the regulators, announced Saturday. He is staying on as CEO, but giving up his chairmanship. The complaint had sought his removal as CEO as well. Musk and Tesla will each pay $20 million to resolve the case.
Shares rose more than a percent at the opening bell.