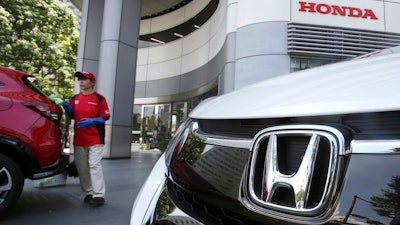 AP Photo/Koji Sasahara
Honda is recalling about 232,000 2018 Accord vehicles and 2019 Insight hybrid cars in the U.S. for malfunctioning software for the rear camera display.
There have been no reports of accidents or injuries related to the problem, Honda Motor Co. spokeswoman Tomoko Takemori said Friday.
The Tokyo-based automaker said that apart from the U.S. recall, Honda is recalling 14,000 vehicles in Canada, more than 6,000 vehicles in Germany and nearly 3,000 in South Korea for the same problem.
The software will be updated free of charge, the company said.
It said the rear camera display does not show the images properly when the driver shifts into rear in the affected vehicles, a problem that can be dangerous and does not comply with U.S. requirements.