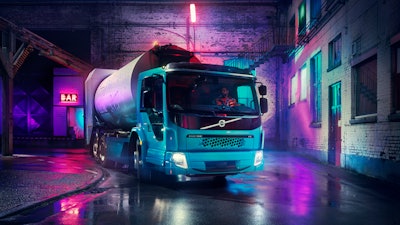 AB Volvo
Volvo plans to roll out prototype electric semi-trucks in California next year and begin selling them in North America the following year.

The company announced the timeline as part of an agreement with the South Coast Air Quality Management District — which monitors air quality in the Los Angeles area — and 16 industry partners.

The California Air Resources Board awarded SCAQMD $44.8 million from California Climate Investments, an initiative funded by revenue from the state's cap-and-trade system, for the Volvo LIGHTS project.

The project — short for Low Impact Green Heavy Transport Solutions — will deploy eight demonstration units, along with another 15 pre-commercial and commercial units, in Southern California. The prototypes will be based on Volvo's electric trucks slated to go on sale in Europe next year.

"We are convinced that electrified truck transport will be a key driver of sustainable transports, and we're proud to contribute the Volvo Group's expertise to this innovative public-private partnership," Volvo Trucks President Claes Nilsson said in a statement.

The project will include remote diagnostics, geofencing and web-based service management technologies to monitor truck performance and bolster vehicle uptime. It will also utilize "non-truck battery-electric equipment, non-proprietary chargers and solar energy production equipment" — namely, capturing solar energy at customer locations.

The project, Volvo officials added, would result in a 3.57-ton reduction in air pollutants and a 3,020-ton drop in greenhouse gases each year, with the potential to transform operations at two of the nation's "top trucking fleets."

"This is an excellent opportunity to show the end-to-end potential of electrification," said Volvo Trucks North America President Peter Voorhoeve.