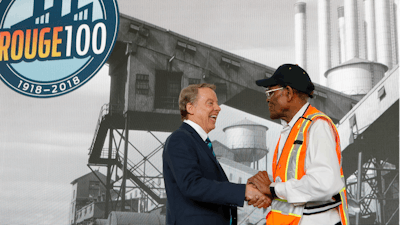 AP Photo/Carlos Osorio
Ford Motor Co.'s historic Rouge factory complex will continue well into its second century of production with the announcement Thursday that it will make at least one version of the next-generation F-150 pickup truck.
Executive Chairman Bill Ford announced at a celebration of 100 years of manufacturing at the Rouge that it will make a gas-electric hybrid version of the pickup.
The 600-acre factory complex is the longest continuously operating auto plant in the nation. It once was the world's largest industrial complex, designed to take in raw materials and convert them into fully assembled vehicles.
The factory, now modernized with robots and a grass roof, at times has been in danger of closing during its century of operations. "What was once dismissed as a rust belt relic has become a model for plants all around the world," Bill Ford said at the celebration.
The Rouge began operating in July of 1918 when it produced a World War I submarine chaser called an Eagle Boat. The first vehicle it made was a Fordson tractor in 1921, and the first car, a Model A, came off its assembly lines in October of 1927.
At its peak, in 1929, the complex employed 102,000 people. It was added to the National Register of Historic Places in 1978.
In 1999, a Ford boiler exploded at the complex during routine maintenance, killing six employees and injuring 14 others. State regulators later found 15 workplace safety violations.
Parts of the complex still make steel, and the Ford portion now employs about 7,000 workers making the F-150 pickup truck, the top-selling vehicle in the nation. The plant cranks out a pickup truck every 53 seconds, the company says.
Ford hasn't released many details about the new version of the truck, which will go into production in 2020. The company said it will be a full hybrid with enough electricity available to power tools on work sites. The truck also will be sold with internal combustion engines.