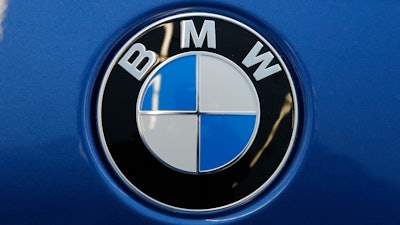 Associated Press
German luxury automaker BMW said Tuesday that its profits and sales will fall short of its forecasts this year, saying that fear of international trade conflicts has weighed on pricing and citing the impact of new emissions tests on European markets.
The profit warning — the second from a major German automaker this year — underlines the difficulties facing the industry in maintaining its record of steadily growing sales and profits.
The Munich-based company said that sales revenue in its automotive division would fall slightly compared with last year's instead of increase, while earnings before tax would be moderately below last year's 10.66 billion euros ($12.55 billion) instead of roughly in line.
A key earnings metric — the operating profit margin — would fall short. BMW predicts a 7 percent profit margin, below its target range of 8-10 percent. The figure represents how much the company is making per vehicle, an area that has been a strong point for makers of higher-priced cars.
"The continuing international trade conflicts are aggravating the market situation and feeding uncertainty," the company said in a statement. "These circumstances are distorting demand more than anticipated and leading to pricing pressure in several automotive markets."
The company also said that new, tougher diesel emissions tests in Europe, called WLTP for Worldwide Harmonized Light Vehicle Test Procedure, have led to market and sales distortions, even though BMW has managed to implement the new standard ahead of time. Auto registrations soared in Europe in August as companies unloaded noncompliant vehicles before the new standard came into force on Sept. 1 and made them unsellable, often in the form of fleet or rental sales.
The company also cited costs for warranty actions. In August, it announced a recall of 324,000 due to a defect that could cause vehicle fires.
BMW is facing some of the same headwinds that led competitor Daimler to issue a profit warning in June. Analysts at Sanford C. Bernstein said that the price pressure from competitors Audi and Daimler's Mercedes selling off vehicles ahead of the emissions deadline should be temporary. "The fact that some German companies have screwed up WLTP testing and are now offering discounts on pre-registered cars is not a sign of the consumer rolling over," they wrote in an email. If the testing issue passes "and 2019 demand remains intact, earnings should stabilize."
Shares in BMW dropped about 5 percent after the announcement.