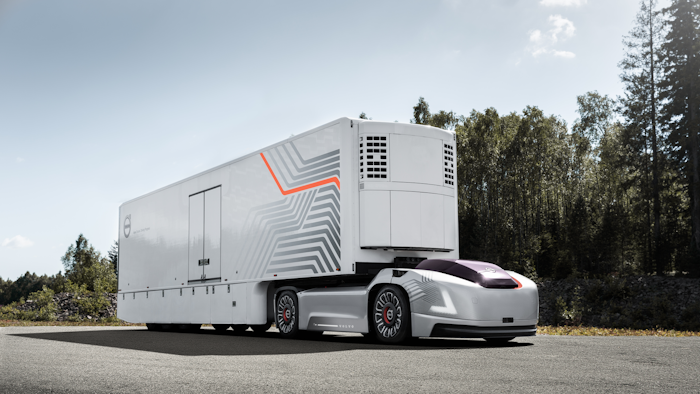 Volvo Truck Corp.
Volvo's heavy-duty truck division this week introduced an autonomous, zero-emission vehicle designed to haul trailers between shipping hubs.

The Swedish automaker, controlled by China's Geely Holding, put a prototype of its Vera on display Wednesday at a Berlin showcase, according to Reuters.

And unlike some driverless prototypes built without steering or braking components, the Vera does away with a cab for human passengers altogether.

Company officials said the technology could help address the challenges posed by urbanization, driver shortages and growing e-commerce demand, as well as resolve the pollution and noise issues of the conventional trucking industry.

"Everything suggests that the global need for transportation will continue to significantly increase in the coming decade," Volvo Trucks President Claes Nilsson said in a statement. "If we are to meet this demand in a sustainable and efficient way, we must find new solutions."

Volvo's autonomous electric vehicles would be linked to a cloud service and control center that monitors their location, cargo and battery charge. Company officials anticipate that the system would be used on frequent, repetitive trips between warehouses, ports and other high-traffic locations.

Industry observers have long expected that trucking would be more conducive to autonomous technology than passenger vehicles. Volvo's system, for example, would allow multiple trucks on the same route to cooperate and optimize traffic flow, while its quieter, emission-free operations would let cargo travel day or night to improve warehouse operations and prevent stockpiling of goods.

Volvo officials, however, told Reuters that the Vera remains in development and does not have a specific timetable for a commercial debut.