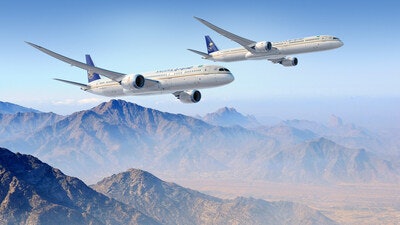 Boeing
Two Saudi Arabian airlines said Tuesday they will order 78 jetliners from Boeing and take options to buy 43 more in a major boost for the American aircraft manufacturer.
The order for Boeing 787s will be divided between Saudi Arabia's flag carrier, Saudia, and a planned new airline called Riyadh Air, which Saudi officials announced over the weekend.
At list prices, the combined deal would be worth about $37 billion if the options are exercised, but airlines routinely get deep discounts. Terms of the deal were not disclosed.
Boeing had been talking to the Saudis about an order for three years, according to two senior U.S. administration officials, who spoke on condition of anonymity because the deal had not been publicly announced. The officials said President Joe Biden did not directly lobby for the order when he met Saudi Crown Prince Mohammed bin Salman last summer, but top aides made a pitch to Saudi government officials on Boeing's behalf.
The Saudi deal will support about 1 million jobs in 44 states across the U.S. supply chain, including 150,000 new manufacturing jobs, the administration officials said.
The sale comes a month after Air India announced it agreed to buy 220 planes from Boeing and 250 from European aircraft maker Airbus. Both rank among Boeing's five largest orders.
Relatively high oil prices have boosted Saudi Arabia's economy and government, making it easier for the kingdom to close a multi-billion-dollar jet order. At the same time, strong demand for travel is boosting demand for jets made by Boeing and Airbus.
Boeing's history with Saudi Arabia goes back to early 1945, when President Franklin D. Roosevelt presented Abdulaziz al Saud— the founder of modern Saudi Arabia — with a DC-3 made by Douglas Aircraft Co., one of the forerunners of current-day Boeing.
The relationship has stood through Democratic and Republican administrations ever since. President Donald Trump signed defense and commercial deals for Boeing during a 2017 trip to the kingdom. The crown prince toured a Boeing plant in the Seattle area the following year and signed a memorandum of understanding for a joint venture maintaining military aircraft in the kingdom.