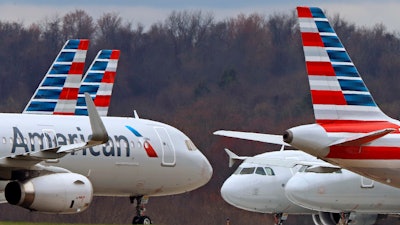 AP Photo/Gene J. Puskar, file
DALLAS (AP) — The CEO of American Airlines says he is ready to give pilots raises and higher retirement contributions that would average 40% over four years to match a contract recently approved by pilots at Delta Air Lines.
By the end of the agreement, Robert Isom said in a video to pilots, a top-scale captain on a plane like a Boeing 737 would make $475,000 a year in salary and retirement-plan contributions, while a senior captain on a larger plane such as a Boeing 777 would earn $590,000 a year.
On Thursday, the Allied Pilots Association said its board voted unanimously to open a "strike center" and survey members on authorizing a walkout.
Union spokesman Dennis Tajer said the strike vote "has been contemplated for several months as a contingency in the event that a deal is not reached." He said it is crucial to get a deal before the summer travel season.
The strike-authorization vote will be largely symbolic because federal law makes it nearly impossible for airline unions to conduct legal strikes. However, it illustrates the leverage enjoyed by the best-paid workers in the airline industry. Airlines have struggled with pilot shortages since they encouraged thousands to take early retirement when travel collapsed early in the pandemic.
The Fort Worth, Texas-based airline thought it had a deal with pilots in November, but the union's board rejected a tentative agreement that would have raised pay by nearly 20% after two years.
Delta pilots, who are represented by a different union, ratified a contract last week that will boost pay a cumulative 34% over four years. They also enjoy better profit-sharing benefits than pilots at other airlines.
The Delta deal was stunning — Isom called it "unprecedented in the history of collective bargaining." It put immediate pressure on American, United and Southwest, which are still in negotiations with their pilots, to match Delta's terms.
In a video that American sent to pilots on Tuesday, Isom pledged that pilots and other employees "will be paid well, and they will be paid competitively."
Isom offered pilots pay raises averaging 21% in the first year of a new contract and a new profit-sharing plan and higher 401(k) retirement contributions in the second year. The combination of higher pay and contributions would lead to the top-scale compensation figures he gave of $475,000 and $590,000 a year.
He said the proposed pay deal would cost American $7 billion over four years.
The CEO also promised to improve the airline's crew-scheduling practices, which are a subject of much complaining among pilots.
Sarah Jantz, a spokeswoman for American, said the airline believes that "a deal is within reach and can be negotiated expeditiously."