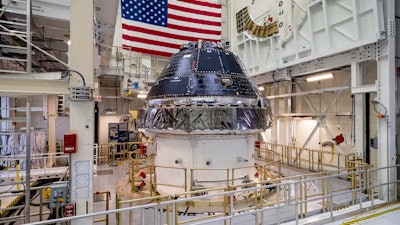 NASA/Radislav Sinyak
Lockheed Martin this week announced a finalized contract with NASA that will see the defense and aerospace giant build at least six of its Orion spacecraft for forthcoming missions to the moon.

The company developed Orion for NASA's Artemis program, which aims to return astronauts to the moon in 2024 after a 52-year hiatus. The first capsule, which will fly on the unmanned Artemis I mission, is scheduled to begin launch processing next year.

The first three Orion capsules under the newly announced contract are slated for Artemis III — the program's first manned mission to the moon's surface — through Artemis V. Those capsules are valued at $2.7 billion, with the next three projected at $1.9 billion.

The contract also allows NASA to order up to six additional Orion spacecraft through 2030.

"This contract secures Orion production through the next decade, demonstrating NASA's commitment to establishing a sustainable presence at the Moon to bring back new knowledge and prepare for sending astronauts to Mars," NASA Administrator Jim Bridenstine said in a statement.

NASA officials said ordering the capsules in batches of three will optimize costs. Lockheed added that its design and manufacturing process features augmented reality, additive manufacturing and reusable systems to help keep expenses down. NASA hopes to begin using recovered components as soon as the Artemis II mission.

Johnson Space Center in Houston will manage production of the Orion. NASA announced last month that Marshall Space Flight Center in Huntsville will manage the lunar lander that will bring astronauts to the moon's surface.

Although NASA officials lauded the Artemis program's aggressive timeline, associate administrator and former space shuttle commander Kenneth Bowersox last week cast doubt on that goal before a congressional panel.