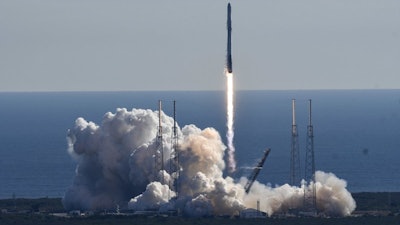 Craig Bailey/Florida Today via AP
The Air Force is warning residents on California's central coast to be prepared for unusual sights and sounds this weekend as SpaceX attempts its first return of a rocket to launch site on the West Coast.
A SpaceX Falcon 9 rocket is scheduled to launch a satellite into orbit from Vandenberg Air Force Base at 7:21 p.m. Saturday.
The Falcon's first stage will then fly back to Vandenberg and set down in a landing zone on the coastal base.
The 30th Space Wing says residents may see multiple engine burns by the first stage and there may be one or more sonic booms.
SpaceX has flown boosters back to land after launches from Florida but has yet to do so in California.