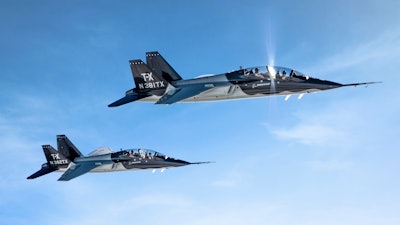 John Parker, Boeing
Boeing will build hundred of new jets to replace the Air Force's aging fleet of training aircraft under a newly announced contract.

Air Force officials awarded the $9.2 billion contract to Boeing and partner Saab over a bid from Lockheed Martin and its Italian aerospace partner, Leonardo DRS.

The contract funds 351 T-X jets, 46 simulators and additional ground equipment, with an option to buy 124 more jets and 74 more simulators.

The first jets and simulators are expected to be delivered to Joint Base San Antonio-Randolph in Texas in 2023. The Air Force set a goal of operating a full capacity by 2034.

"We expect T-X to be a franchise program for much of this century," Leanne Caret, the head of Boeing's defense division, said in a release.

Air Force officials said the T-X will allow undergraduate- and graduate-level student pilots to transition to 4th- and 5th-generation fighter and bomber aircraft. The current fleet of training aircraft, the T-38C Talon, is 57 years old.

The Air Force also noted the contract's overall value came in at less than half its original projection.

"This new aircraft will provide the advanced training capabilities we need to increase the lethality and effectiveness of future Air Force pilots," said Air Force Secretary Heather Wilson. "Through competition we will save at least $10 billion on the T-X program."