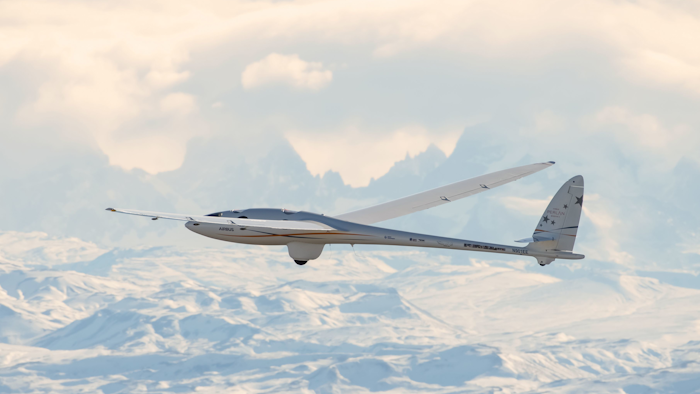 Airbus
An Airbus high-altitude flight initiative established a new record for gliding altitude during a flight Sunday, company officials announced.

The aerospace giant's Perlan 2, an engineless glider, was towed to an altitude of about 42,000 feet by a modified reconnaissance plane. Pilots Jim Payne and Morgan Sandercock then ascended to more than 62,000 feet to set the new threshold.

Payne and Sandercock set the previous record of more than 52,000 feet in the unpressurized Perlan 1 nearly one year ago. The Perlan 2 features a pressurized cabin, and was therefore able to cross the Armstrong Line — the barrier at which an unprotected human's blood would boil if the aircraft lost pressure.

The latest incarnation of the Perlan Project also featured a carbon-fiber capsule, a closed-loop oxygen system, an efficient pressurization system and a visual display to help pilots take advantage of rising air — and avoid dangerous wind shear or downdrafts.

"This is a tremendous moment for all the volunteers and sponsors of Airbus Perlan Mission II who have been so dedicated to making our nonprofit aerospace initiative a reality," project CEA Ed Warnock said in a statement.

The test again took place in a remote region of Patagonia in Argentina. The Perlan aircraft use temporary, unusually strong rising air currents behind the Andes Mountains to reach their unprecedented heights.

The Perlan gliders are designed to fly at up to 90,000 feet to study high-altitude conditions, weather patterns and climate change. The gliders, unlike aircraft with onboard engines, do not impact nearby air temperatures or chemistry.

"Perlan Project is achieving the seemingly impossible, and our support for this endeavor sends a message to our employees, suppliers and competitors that we will not settle for being anything less than extraordinary," said Airbus CEO Tom Enders.