Supply chain issues have not subsided as the world enters the third year of the coronavirus pandemic. On a large manufacturing scale, shortages such as semiconductors, consumer products and workers continue to plague the United States. Then, add the war in Ukraine that has impacted how the country considers the oil and gas supply chain.
In an era appearing to pose more questions than answers, many say bringing manufacturing back to the U.S. is a viable solution to the supply chain problems.
Bre Pettis favors this idea. To make it happen, the entrepreneur, co-founder of MakerBot and current CEO of Bantam Tools said the U.S. must bring prototyping and manufacturing back in-house, close the skills gap and build an independent manufacturing workforce.
However, manufacturing began leaving the U.S. long before COVID-19.
"In some sectors, we're still a powerhouse, but in general, you started seeing consumer products go abroad in the 70s and 80s," Pettis said. "At first, it was like, 'Okay, it's going abroad, it's cheap and then things got good.' That happened with Japan and then with China as well. Then affordability became important and you started seeing things going overseas."
As manufacturing operations began to travel abroad, American workers remained yet time found a way to diminish them as well.
Pettis remembers at a young age when education focused on filling manufacturing jobs. He recounted when middle schools and high schools offered training to learn how to use machinery. But as more technical areas became popular and the government's education values shifted, manufacturing took a backseat.
"I think computers shifted that a little bit as the new thing to be successful; shifted from machining to computing," Pettis said. "In the Clinton era, we had legislation that gave the message that the trade schools are for the disadvantaged; the folks who don't do well in school, they should go into the trades.
"During the Bush era, you had No Child Left Behind, which shifted all of our educational infrastructure to be tests; to be focused on teaching to the test. That happened in 2001 and I was a teacher then and I saw how-to-make-things courses and art classes just get cut."
Pettis said the U.S., as a community, has not done well finding ways to embrace manufacturing. But he offered a fix which is to tell the stories of people engaged in exciting developments in the industry. If an accurate picture can be painted, people will be inspired.
Despite the stereotypes attached to manufacturing and the global issues hindering growth, Pettis cannot help but feel excited about the future.
"The thing that I want to put my shoulder behind is innovation and problem-solvers," Pettis said. "It's the best time in the history of everything to be an entrepreneur. I want to be a supportive cast member in that world. It's what I did when I was a school teacher, it's what I did when I was at MakerBot and it's what we do with Bantam Tools."
When explaining how to bring prototyping and manufacturing back in-house, Pettis told a story about a problem he experienced at Bantam Tools while designing the machine that went on to become the Bantam Tools Desktop CNC Milling Machine.
This machine was born out of the need to make prototypes out of aluminum and wanting to offer that ability to others. During the design process, Bantam would send out parts to be made domestically. However, Pettis faced turnaround times of up to three months.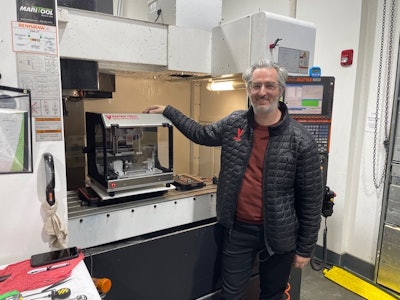 He responded by purchasing two aerospace-grade Mazak machines and first used them to build prototypes. Eventually, the Mazak machines were used for production and the Bantam Tools Desktop CNC Milling Machine was used for prototyping.
"In terms of the way the world is right now, you're not gonna have a lot of success offshoring things," Pettis said. "If you've done that, you're in pain. If you're developing products right now, it just is really hard to get things made out-of-house. One of the nice things about Bantam Tools is we're not trying to tell anybody to do anything that isn't totally reasonable and rational.
"When we tell people, 'Bring prototyping in-house,' it will accelerate your innovation. It will get you your prototypes faster. It will allow you to iterate more. It'll give you the opportunity to find more bugs in your product and build a better product for your customers."
Pettis said the culture needs to value manufacturing to narrow the skills gap. The current culture doesn't attract top talent to the many well-paying manufacturing jobs.
"I like William Gibson's quote, 'The future's here. It's just not evenly distributed,'" Pettis said. "In many ways, [innovators] are living in the future that I want to see. The thing that I want to put my effort behind is supporting those folks and amplifying their stories."
For building an independent workforce, Pettis directs attention to pulling processes in-house by way of prototyping and building relationships.
He reasons that operating independently builds resiliency, ability and responsibility. It creates the opportunity to learn from challenges and mistakes, which will, ideally, strengthen a company.
Expanding to a cultural scale, an independent workforce decreases the country's dependence on other nations and increases its problem-solving abilities.
"I'm frankly excited by all the challenges that are happening right now with trade wars, with supply chains, with shipping disasters, because the teams that are problem-solvers are doing really interesting things to get around it," Pettis said. "Prototyping is a really good one [to start with] … if you bring prototyping in-house, you're going to have to learn some different approaches, but you're going to pull a talent into your team to make multiple things in a day. Whereas before, you'd make one every six to 12 weeks."
Before becoming CEO of Bantam Tools in 2017, Pettis sold 3D printing company MakerBot to Stratasys for $403 million in 2013. At MakerBot, he had 600 employees in approximately half a million square feet of manufacturing space in Brooklyn.
He admitted to experimenting with manufacturing abroad but found it unsuccessful in bridging that ocean. Pettis acknowledged that working with companies abroad is sometimes inevitable.
"You can't get around working with Asia if you're making [consumer products]," Pettis said. "For [Bantam], we have very few things that are made abroad, but some of them are. You can't buy affordable motors made in the U.S. We have a little bit of a vulnerability there. Everything else, we've actually been pretty good at pulling lots of stuff in either in-house or with close partners."
Pettis wants to increase U.S. manufacturing for many reasons. Some are as simple as having more friends in manufacturing and building a community of manufacturers with deeper relationships with people performing "world-changing creation."
He also wants a culture of students and young people who have the urge to create.
"We need to create options for people to level up in manufacturing and into the workforce," Pettis said. "Those options are just sitting there waiting for us. I want to amplify a culture of empowerment and creativity, of making things happen and solving problems. Innovating."