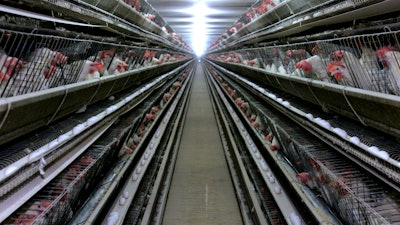 AP Photo/Rich Pedroncelli, File
STOCKHOLM (AP) — Sweden's largest egg producer, which had nearly 1.2 million chickens or 20% of all laying hens in the country before a salmonella outbreak, has been ordered to euthanize all of them so the facility can be fully cleaned.
The Swedish Board of Agriculture has given up on attempts to clean the hen houses at CA Cedergren, which has had recurring salmonella outbreaks in the past year, Sweden's main farming news outlet, ATL, said Wednesday.
Swedish authorities have tried to clean infected hen houses at the southern Sweden company. "It was not successful and now that we have re-infection, we needed to do something different," Katharina Gielen, the board's head of infection control, told ATL.
It was unclear how many chickens would be killed. There was no immediate comment from CA Cedergren.
In July, Sweden experienced a brief shortage of eggs as a result of a December 2022 salmonella outbreak that affected the company, ATL said. In April, all deliveries from CA Cedergren were stopped after salmonella bacteria were found in the farm's packing room. In August, 340,000 chickens had to be killed on the farm after a salmonella infection was discovered in two hen houses.
Marie Lönneskog Hogstadius, spokesperson of the industry organization Swedish Eggs, told Swedish news agency TT that ordinary consumers will not be affected by the culling. Eggs from CA Cedergren have instead gone to the food industry where they were heated to kill any salmonella and were used in, among other things, prepared meals and powdered eggs.
Symptoms of salmonella infection include fever, diarrhea, vomiting and dehydration. Most healthy people recover within a week without treatment.