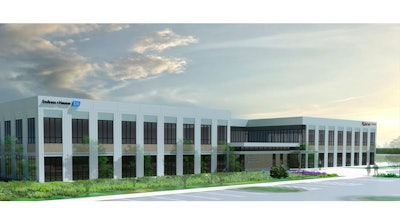 Endress+Hauser
Endress+Hauser and its sales and service partner, George E. Booth Co., broke ground today on an approximately 106,000 square-foot commercial office and light industry facility in Greenwood, Indiana.
The facility will house Endress+Hauser's projects and solutions, human resources and legal departments as well as a Design and Innovation Studio for early education and workforce development. Construction of the facility is expected to be completed in the summer of 2025.
The building will house 190 employees over the next decade. Of those positions, 95 will be new to Johnson County, including 50 immediate jobs from the relocation of George E. Booth Co. Endress+Hauser plans to add 75 additional jobs over the next 10 years and George E. Booth Co. plans to add 20 jobs in that same timeframe.
As part of the Design and Innovation Studio, approximately 2,500 square-feet will be dedicated to STEM, allowing K-8 educators to visit the company's campus for field trips and extracurricular enrichment. In addition, the Design and Innovation Studio will house a smart classroom and maker space.
In cooperation with Purdue Indiana Next Generation Manufacturing Competitiveness Center (IN-MaC), students will be equipped with Industry 4.0 technology and other cutting-edge innovations. High school students also will have the opportunity to use the studio's 3D printing, robotics, Spheros, Little Bits, engineering and science modules and coding tools.
The project will boast many sustainable elements including geothermal heating and cooling, a solar panel-covered roof, rain gardens and permeable pavers. These investments in green infrastructure showcase Endress+Hauser's commitment to reducing its carbon footprint, aligning with its integral brand value of sustainability.