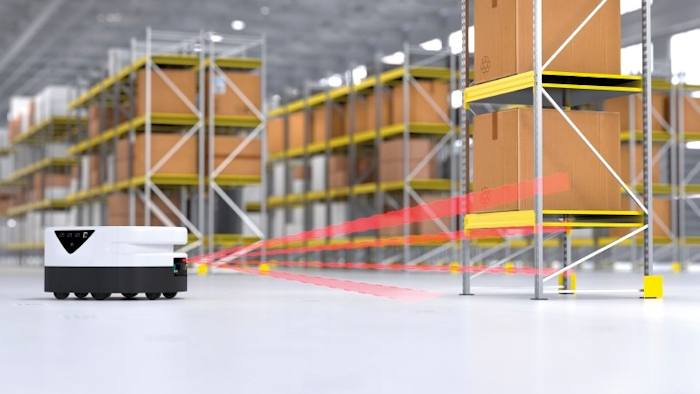 Pepperl+Fuchs
Pepperl+Fuchs presents the new R2300 multi-layer scanner. The sensor for 3D object detection impresses by offering incredibly high measurement density.
The compact and easy-to-integrate housing contains high-precision LiDAR laser measurement technology, which analyzes a total of four scan planes and can detect and measure the length, width, and height of objects. A number of innovative design features in the sensor ensure very high detection reliability and availability, even in demanding applications.
The compact and space-saving R2300, with a height of just 58 millimeters, is a 3D LiDAR (Light Detection And Ranging) sensor for optical angle and distance measurement in stationary and mobile applications.
The R2300 has a measuring range opening angle of 100°, a large measuring range of up to 10 meters on bright objects and up to four meters on dark surfaces, a measuring rate of 50 kHz, and selectable scan rates of 12.5 Hz and 25 Hz with up to 4000 pixels per scan. These features enable the multi-layer scanner to cover the most important requirements of a wide range of applications. 
In addition, the monitoring field can be customized either by selectively hiding areas outside of the detection field or by installing a second R2300 alongside the first device, thus increasing the field of view to 180°. 
A distinguishing feature of 3-D sensors is the small — and therefore high — angular resolution of only 0.1°, which no comparable LiDAR or multi-layer sensor can currently achieve. In combination with the precise infrared light spot typical of lasers, the R2300 is able to reliably detect intricate object structures and contours.
The possible applications of the R2300 include fields such as intralogistics, mobile equipment and robotics.
For more, visit https://www.pepperl-fuchs.com.