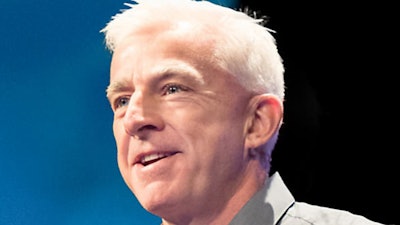 National Instruments
AUSTIN, TX —National Instruments (NI) announced Tuesday that Alex Davern will step down as chief executive officer of NI, effective Jan. 31, 2020.
The NI board of directors has appointed current president and COO, Eric Starkloff, as NI President and CEO, effective Feb. 1, 2020.
Davern will take up a teaching position at the University of Texas McCombs School of Business starting in the fall of 2020. Davern will remain on staff at NI as strategic advisor to the CEO through May and will continue to serve on the NI Board of Directors.
Board chairman Michael McGrath said, "The board appointed Alex as CEO in 2016 to lead the transition from our founder, Dr. James Truchard. Over the past three years, he led NI and shaped a new core strategic vision, expanded our strategy to provide more complete systems for our customers, aligned the company to focus on growth industries and delivered record results. The board's intention, after a successful transition from the founder, was to appoint the next CEO to lead the company to achieve this new vision. After considering alternatives, we unanimously selected Eric as our next CEO to lead NI into a very promising future. Alex will leave NI stronger, with experienced leaders and a clear strategy. We are excited to have Eric as our new leader as he has proven to the board that he is the most qualified person to take NI to the next level."
Davern, CEO said, "I have thoroughly enjoyed being part of NI's incredible success since joining in 1994, one year before the IPO, and I am confident the company is well positioned to deliver on its growth strategy. I am proud of the progress our employees made in significantly improving our operating results and we have developed a team of highly experienced leaders. I have worked with Eric for many years and have great confidence that as CEO, he will continue to take NI forward to realize the company's long-term potential."
Starkloff, President and COO said, "It has been an honor to work alongside Alex for the past 22 years and I want to thank him for his mentorship and his significant contributions to NI. I am confident in our strategy and our team, and I believe we are in a position of strength to deliver on our goals. I look forward to taking on the responsibility of CEO, as we connect our deep engineering experience and software-connected systems with our incredible customers who are taking on the complex challenges shaping humanity."