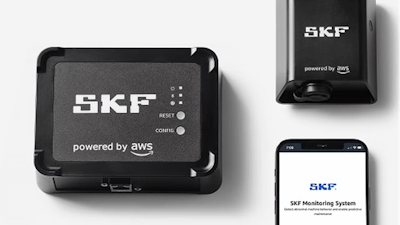 SKF (Lansdale, PA) has launched SKF Axios, a solution the company says reinvents the fields of industrial machine reliability and predictive maintenance in a collaboration between SKF and Amazon Web Services, Inc. (AWS).

Manufacturers want to use simple and affordable wireless technology to monitor more equipment in their facilities. SKF Axios is a fully automated condition monitoring solution that fulfills this need. It is comprised of sensors, gateways and a machine learning service that is easy to install, commission and scale with no experience necessary, allowing sensors and apps to be operational within minutes. It detects anomalies and pushes notifications allowing for quick action to avoid unexpected machine failures.
SKF's team of vibration analysts and engineers will continue to be an integral part of helping customers improve the reliability of their equipment. SKF Axios complements SKF's current portfolio of sophisticated condition monitoring products and now provides industrial companies with a simple solution to broaden their rotating asset predictive maintenance programs.