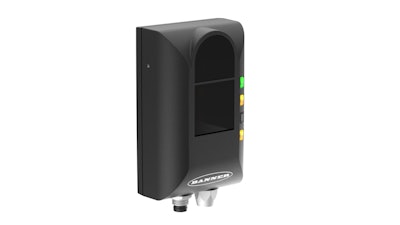 Banner Engineering Corp.
Banner Engineering (Minneapolis, MN) introduced the ZMX series 3D Time of Flight Sensor. This provides an ideal single-sensor solution for monitoring the volume of materials, products or packages that are routed to fill a bin or similar container.
Factories, warehouses, and distribution centers that use containers for accumulation of items can install a Banner ZMX sensor above the bin to monitor fill level to avoid overfill, package damage, or shipping empty space.
Features include:
Combining digital imaging and thousands of laser measurement points
Calculating volume of packages in a bin
Tracking the peak height of objects within a user-defined area
Large 60° × 45° field of view
Range of 200 to 2,500 mm (7.9 in. to 8.2 ft.)
The ZMX 3D Time of Flight Sensor is ideal for applications including:
Bin fill and peak height monitoring
Overfill detection
Pallet stacking or depalletizing
Parcel management
Shipping and receiving
Tracking material flow volume or height statistics