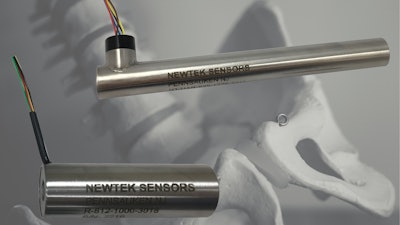 NewTek
NewTek LVDT position sensors serve as important components within next-generation medical equipment in providing linear displacement feedback for accurate device positioning and performance for optimal patient treatment.
A small size, large measurement range, and accuracy are some of the attributes of NewTek linear position sensors that make them ideal for use in a variety of medical devices.
For example, a NewTek LVDT is used within a state-of-the-art spine adjusting instrument used by chiropractors and other healthcare professionals to externally analyze the spinal column. In operation, the computerized diagnostic and treatment tool delivers low-energy mechanical impulses to a patient's spine to identify joint dysfunction. The NewTek LVDT controls the position of the instrument while providing feedback on a patient's inward displacement of tissue in real-time with high accuracy. Results are displayed in a computer interface.
By using a NewTek LVDT, the performance and results of the computerized spine adjusting instrument exceeds other technology in the market. As accuracy is critical to the application, NewTek customized an AC-operated LVDT with an oversized bore so that shaft movement is not affected by friction with the core. Designed with a compact length to fit inside the device, the LVDT also features a potted coil with lead-wire exits for ease of connection. 
In another medical device application, a Newtek LVDT is used inside a bone drill to deliver feedback on the depth of drilling to tenths of a millimeter so surgeons can better choose the size of screws used in orthopaedic surgery. The sensor helps automatically stop the drilling process once the bone is penetrated. By providing surgeons with a precise depth measurement, the drilling technology improves outcomes in common orthopedic surgeries.
To fit into the limited space of the drill, NewTek specified a miniature AC-operated LVDT with a high stroke/length ratio and large measurement range. The sensors are hermetically sealed to withstand exposure to 220°F pressurized steam of an autoclave that sanitizes the instrument.
For more information, visit http://www.newteksensors.com/