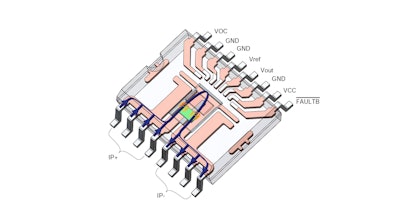 Aceinna
Aceinna announces that the MCx1101 family of current sensors now supports 3.3 volt applications.
These highly accurate, wide-bandwidth AMR-based current sensors are now available for a wide range of ADC and microprocessor based power systems and applications, including:
Server farms
Telecom power supplies
IoT applications
Appliances
Inverters
Motor control
Industrial robots and manufacturing systems
Automotive EV charging stations
The MCx1101 are fully integrated, bi-directional current sensors that offer much higher DC accuracy and dynamic range compared with alternative solutions. These new current sensors are in an industry standard SOIC-16 package with a low impedance (0.9 milli-ohm) current path and are certified by UL/IEC/EN for isolated applications.
These new current sensors also guarantee an offset of ±60mA, or ±0.3% of FSR (max) over temperature, which means that high accuracy can be achieved over a roughly 10:1 range of currents providing significant improvement in dynamic range vs. leading Hall-sensor-based devices.
These devices deliver a unique combination of high accuracy, 1.5MHz signal bandwidth with industry benchmark phase shift vs. frequency, fast output step response and 4.8kV isolation making them ideal for current sensing in fast current control loops and protection for high performance power supplies, inverters and motor control applications.
For more, visit https://www.aceinna.com/current-sensors.