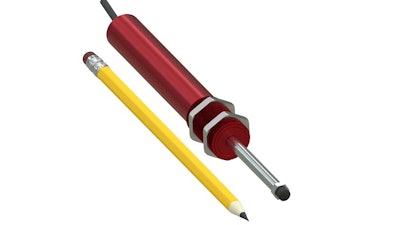 Harold G. Schaevitz Industries LLC (HGSI; Bloomfield Hills, MI) has expanded its sensor product offering by adding a line of ILPS-18S Series Spring-Loaded Inductive Linear Position Sensors using LVIT Technology. The ILPS-18S was designed as an economical solution for dimensional gauging and position measurements in commercial, industrial and military applications. With its compact design, long service life and excellent stroke-to-length ratio, ILPS-18S sensors are ideal for test stands, test laboratories, automated assembly machines, processing and packaging equipment, robotics and automotive test applications. ILPS-18S features include:
Measuring ranges from 0.5 to 4 inches (13 to 100 mm).

Excellent stroke-to-length ratio.

Lower cost replacement for spring-loaded LVITs.

Long service life, rated to over 100 million cycles.

0.75 inches (19 mm) diameter threaded aluminum housing sealed to IP-67.

Axial termination with either M12 connector or integral cable.

Made in USA.
The ILPS-18S series offer a choice of four analog outputs and all include HGSI's proprietary SenSet field recalibration feature.
www.hgsind.com, 248-636-1515