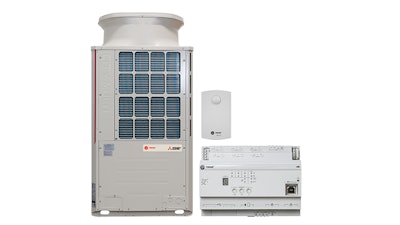 Trane
Trane by Trane Technologies (Davidson, NC) announced enhancements to its Air-Fi Wireless Sensors.
Building owners using Variable Refrigerant Flow (VRF) systems can now benefit from wireless sensing technology that enables enhanced, individualized comfort. Air-Fi Wireless Sensors, which integrate with Tracer SC+ or Tracer Concierge, are now compatible with Trane/Mitsubishi Electric VRF systems.
Air-Fi Wireless Sensors:
Detect and monitor temperature, humidity, occupancy and carbon dioxide from a single device.
Reduce wiring for faster project completion and easier installation.
Possess battery life for worry-free maintenance.
Maximize network reliability – wireless mesh technology self-heals and re-directs communications paths instantly in case of interference or link failures.