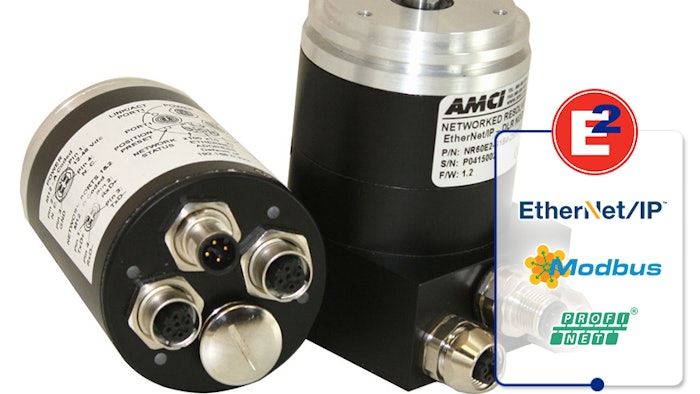 Advanced Micro Controls

Advanced Micro Controls Inc.
Advanced Micro Controls adds new features to their NR60E2 series of networked absolute rotary encoders.
The new features include a Profinet interface, E2 technology, hub shaft (blind shaft) option, and stainless steel units. These rotary sensors provide an overall measuring range of 16 bits (single-turn resolution) plus 14 bits (number of revolutions), for 30 bits total. 
The AMCI NR60E2 networked encoders are 100% compatible with Allen-Bradley, Siemens and Schneider PLCs that support EtherNet/IP, Modbus TCP/IP, or Profinet. With both single-turn and multi-turn versions available, AMCI's networked encoders are ready for any application.
Features include:
EtherNet/IP, Modbus TCP & Profinet

Integrated, dual-port switch
Single-turn resolution up to 16 bit
Multi-turn resolution up to 30 bit
IP67 Ingress Protection Rating
Solid shaft and hub shaft versions
Programs using PLC's native software
NR60E2 Ethernet Encoders are offered in either a 63mm diameter package with hub/blind shaft mounting style, or a 58mm package with flange or servo mount options.
For more, visit http://www.amci.com.