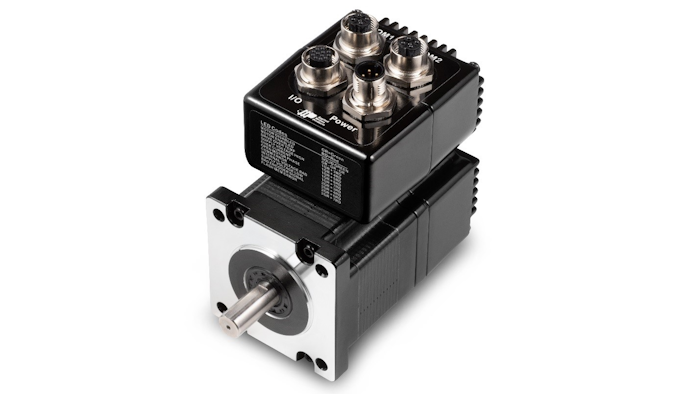 Applied Motion Products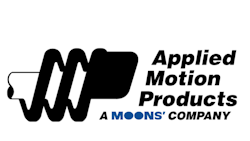 Applied Motion Products
Applied Motion Products introduces two new NEMA 24 frame integrated motors with dual-port communications for connecting to the industrial Ethernet network of a plant or machine.
By incorporating two M12 Ethernet connectors instead of just one on each axis, the SWM24IP-3DE Integrated Stepper Motor and TXM24IP-IDG StepSERVO Integrated Motor support more efficient network topologies such as line networks and daisy-chain connections.
The additional Ethernet communications port on the motors allows for cost savings and design simplification by reducing cables, eliminating bulky cable trays and downsizing network switches. 
The SWM24IP-3DE and TXM24IP-1DG integrated motors are IP65 rated for use in splash-zone and dirty environments. Each motor features a NEMA 24 (60 mm) mounting flange, which has the same mounting dimensions as a NEMA 23 motor but with a larger shaft to accommodate a higher torque output. Both motors include a built-in encoder for enhanced positioning capabilities. 
The SWM24IP-3DE can perform stall detection and stall prevention functions for more reliable and accurate performance than an open loop motor, and in a broader range of applications.
The TXM24IP-1DG utilizes Applied Motion's StepSERVO Closed-Loop Stepper technology to greatly improve the performance of the step motor with greater acceleration, increased efficiency, increased accuracy as well as decreased motor heating and noise.
For more information, visit https://www.applied-motion.com/