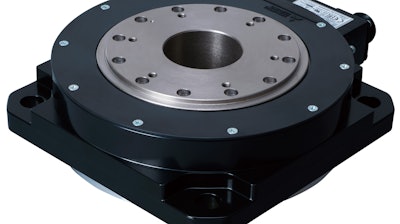 Mitsubishi Electric
Mitsubishi Electric announces the new Low-Profile Direct Drive Motors, TM-RG2M/TM-RU2M, for machine designers and end users looking for direct control of a load without traditional transmission components.
Built with speed and precision in mind, it provides a smaller footprint and allows for more compact, efficient and precise machines than those typically built using rotary servo motors.
Applications that are well suited for the new motor include:
Coating and vapor deposition systems

Index tables

Tool changers

Rotary material handling robots

Rotary axis on XYθ inspection positioning systems.
Unlike rotary servo motors that are coupled to a load with a mechanical transmission such as a gear, coupling or belt, the TM-RG2M/TM-RU2M is coupled directly to a load, resulting in greater positioning accuracy, reduced energy use and less maintenance.
Additional information is available at https://us.mitsubishielectric.com/fa/en/products/drive-products/ac-servos-melservo/melservo-j4/direct-drive-motor/j4ddm.