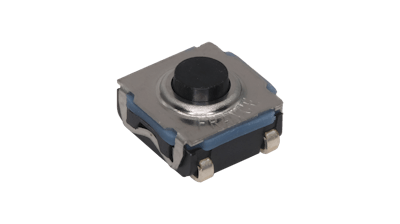 C&K
C&K, a leading manufacturer of high-quality electromechanical switches, has extended its KSC product series with a hard actuator and up to three million actuation cycles. With its hard actuator, the KSC11 series offers a high tactile ratio without sacrificing its lifetime. With competitors switches lasting 1-million cycles best case, the KSC11 has tripled the lifespan. Offering the most cycles for a tactile switch with a hard actuator ensures end-products will continue to perform for as long as needed.
The KSC11 Series is a 6.2 x 6.2mm tactile switch designed for high-end customizable products. End-product designs like industrial, aviation, audio-video consoles, drones and gaming controllers will benefit from the long life and tactile feel of the KSC11.
Offering multiple options for actuation force (1.6N, 3.2N & 5N), the KSC11 Series provides flexibility when finding the right version for designs. With its short travel 0.2 to 0.4 mm, crisp feeling, and audible sound, the user has perfect control of the equipment via the interface using the KSC11 switches.
"This is mainly the case for switches used in professional or safety applications," explained Regis Clement, Product Manager at C&K. "Working with clients and receiving feedback has allowed us to develop a solution to develop the best feeling and sounding switch for high traffic products used everyday."