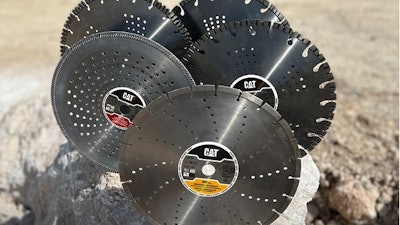 C6 Diamond LLC, the official licensed manufacturer of Cat Diamond Tools (San Antonio, TX), announces the launch of its exceptional range of Diamond Cutting products in North and South America. These products have been designed specifically with uniquely engineered segments and geometry that offer an unparalleled cutting experience, combining speed, longevity and enhanced productivity.
Cat Diamond Tools' cutting-edge segment design and geometry revolutionize the cutting process, making it faster and more efficient while extending the lifespan of the blades. The meticulously crafted segments made from high-quality rare earth powders and ultra-high quality diamond grit, combined with optimized segment geometry, are engineered to deliver outstanding performance, enabling professionals to complete their tasks with exceptional speed and precision. By incorporating advanced design techniques, these tools provide much faster cutting and have a longer lifespan, resulting in increased productivity and cost savings.
Furthermore, the company's focus on safety remains paramount. Cat Diamond Tools' segments undergo meticulous engineering and rigorous testing to ensure the utmost safety for users. Each product is subjected to stringent quality control measures, meeting the highest safety standards in the industry (EN12236). This commitment to safety ensures that professionals can confidently perform their cutting and grinding tasks without compromise.