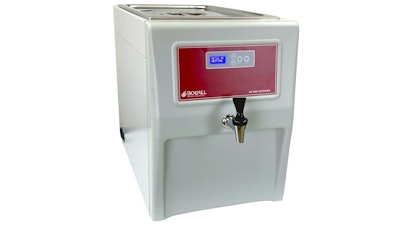 Boekel Scientific
Boekel Scientific introduces two new items to help enhance histology and anatomical pathology laboratories: a new Large Wax Dispenser and a Microscope Slide Storage Cabinet Wheeled Base Dolly.
Boekel Scientific has been manufacturing medical and laboratory devices for over 150 years and continues to bring new and innovative equipment to the market. This wheeled base dolly can be used to effortlessly transport a stack of up to 10 slide storage cabinets (50,000 slides!) from one room to the next or from building-to-building. Due to its interlocking design, the wheeled base dolly can be used with or without a slide storage cabinet base. With locking casters, there is no need to remove the stack of slide storage cabinets from the dolly, as it maintains proper storage capabilities. This wax dispenser has an extra-large wax reservoir that can hold a 28 liters (7.4 gallons) of molten paraffin wax.
Paraffin wax is used to embed tissue samples prior to sectioning via a microtome for microscopic analysis. A large capacity is extremely important for high-throughput clinical labs where many tissue samples are being processed. This large wax dispenser eliminates the use of multiple paraffin dispensers running concurrently as it has more than triple the capacity of most competitive products. The device may be used as the primary source of embedding wax or to supplement tissue processors or embedding centers as the wax demand may exceed the output of such equipment. This large histology wax dispenser has a heated and filtered spigot to keep wax flowing freely when filling large containers. The unit has a corrosion resistant stainless-steel lid and stainless-steel wax chamber. The system has an adaptive digital controller and bright LCD interface with a Hot Start feature that automatically starts the unit the next day so there is no waiting for the wax to melt.
The Large Wax Dispenser is the second addition to the Boekel Wax Dispenser Line which includes a 5 Liter (1.25 gallon) Standard Wax Dispenser. Both devices are available in dual voltages and are sold in the United States, Canada, Mexico and abroad. Boekel Scientific proudly designs and manufacturers their medical and laboratory devices in Feasterville, Pennsylvania and all devices are supplied with a 2 Year Warranty. Contact your local laboratory equipment distributor or Boekel Scientific directly at (215­)396-8200 for additional information.