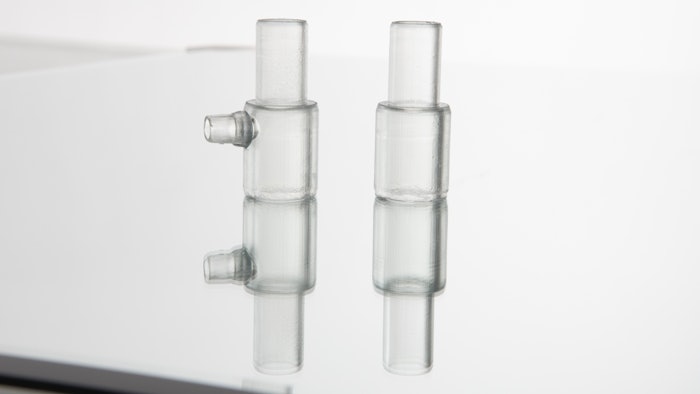 Nexa3D/Henkel
Henkel and Nexa3D announce the commercial availability of xMED412, a polypropylene-like material that is ideal for manufacturing a variety of biocompatible, medical and wearable devices.
xMED412 is entirely based on Henkel's Loctite MED412 material and is covered by all of its associated clearances, tests and certifications.
Both companies are breaking traditional productivity and functionality barriers associated with 3D printing and are decisively expanding the world of additive manufacturing, allowing customers to create truly functional parts across a wider range of applications.
xMED412 was developed by Henkel to deliver highly consistent part performance with extraordinary functionality. The medical-grade material is a very strong and durable photopolymer with mechanical attributes similar to polypropylene with fantastic elongation, impact strength, and compression strength. 
xMED412 parts printed on Nexa3D's NXE400 require post processing and cleaning in accordance with the company's recommendations and can be machined, tapped, or polished to deliver desired production finishes.
xMED412 is a lightweight yet sturdy material that comes with inherent insulating properties, designed to withstand impact, moisture and vibration. These highly desirable features and attributes are ideal for devices that might need to be sterilized or disinfected and are shipped around the world for use in homecare and healthcare settings. 
To learn more, visit https://LoctiteAM.com.