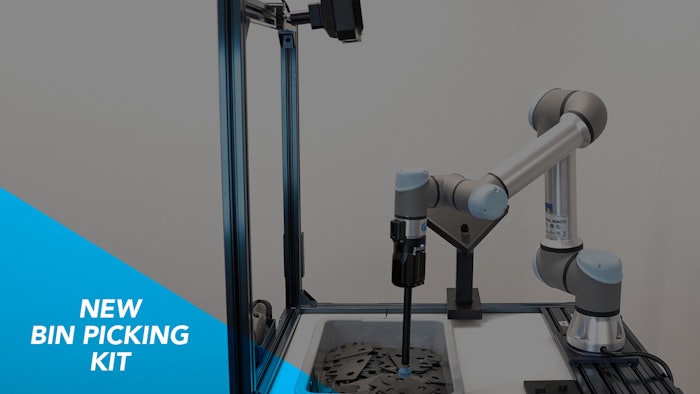 Robotiq
Collaborative robot application specialist Robotiq has introduced a versatile and affordable bin picking system which will bring additional proficiency and flexibility to a broad spectrum of mid to high volume manufacturing and processing operations.
In line with the company's core value of democratizing automation, the Robotiq Bin Picking Kit provides a complete solution for locating, picking, handling, and placing flat and cylindrical parts – with rapid set-up that ensures optimal return on investment.
Compatible with Universal Robots, the Kit is particularly well-suited to appliance manufacturing, automotive components, general industry, and metal and plastic products, and for applications including:
Stamping

Bending
Engraving
Marking
Painting
Deburring
Grinding
Line feeding
Assembly
Cutting through the complexity of many robotic bin picking systems currently on the market, the Robotiq Bin Picking Kit is compatible with bins of up to 800 x 600 x 450mm, handling parts of a minimum size of 10 x 10 x 5mm or flat parts at least 1.5mm thick.
The kit comprises proven, high-quality components including the Pickit M-HD camera and software; Robotiq's acclaimed CoPilot software and their electrical gripper with integrated vacuum generator EPick with extension kit, enabling rapid object detection and picking for both flat and cylindrical parts.
For further information, visit www.robotiq.com.