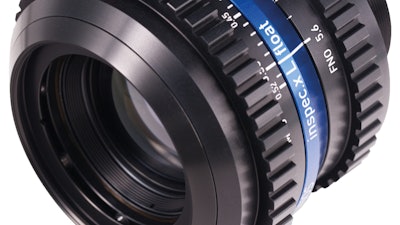 Excelitas
Qioptiq, an Excelitas Technologies company, introduces the LINOS inspec.x L Float 5.6/120 Lens, which delivers brilliant optical performance over a large image circle of 82mm.
By using floating element optics, the new LINOS inspec.x L Float 5.6/120 Lens achieves high performance over an extremely wide magnification range from 0.06x to 0.52x with constant high performance over the complete image field for a variety of machine vision applications including PCB, OLED and FDP inspection, as well as cultural heritage use cases.
The inspec.x L Float 5.6/120 Lens enlarges the field-proven inspec.x L Lens series in a new range of magnification with a brilliant imaging performance. Inspec.x L Float 5.6/120's full-metal housing makes it suitable for industrial use and the integrated pulleys for magnification and aperture allow remote control with timing belts in automated environments.
Specifications include:
Focal length: 120mm

Aperture: 5.6 – 16
Extreme magnification range of -0.06x – -0.52x
Floating element optics
Perfect match with 5µm pixel size
Working distance: 302mm – 2037mm
Spectral range: 400nm – 750nm
Visit http://www.excelitas.com for more information.