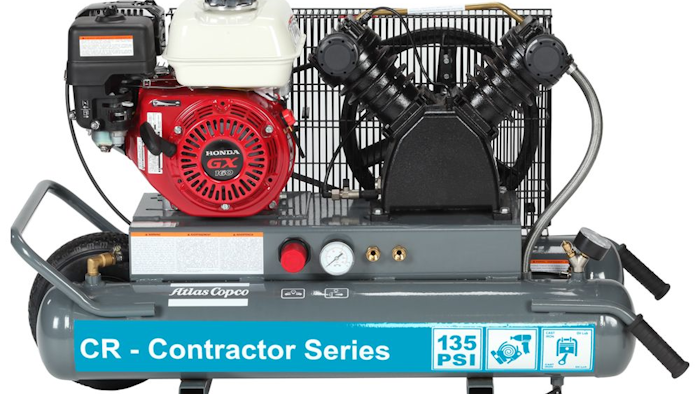 Atlas Copco
For many industry professionals, the piston air compressor has historically been the compressor of choice due to their rugged, tough and durable characteristics. Today, Atlas Copco Compressors is further building on the piston compressor's strong reputation by announcing the release of a new line of compressors featuring full cast-iron designs.
Introducing its CR Range, Atlas Copco Compressors provides a line of durable single and two-stage cast iron piston compressors combining reliability and maximum productivity for demanding industrial, automotive and commercial applications. The CR Range offers a variety of customization options including: auto drain, after cooler, low oil level switch, TEFC motor, NEMA4 control panel, pressure-lubricated pump, and simplex and duplex configurations.
Atlas Copco Compressors' wide range of piston air compressors comes in a variety of configurations to provide flexibility and affordability while remaining well-suited to any and every need. The CR Range's technical specifications include working pressures from 100 psig - 175 psig and flow capacities up to 72 cfm.
The CR Range provides affordable compressed air in a small, lightweight package and is available in three series: Contractor, Professional, and Industrial. Features and benefits for each include:
Bumper-to-Bumper Warranty Program

Duplex or Simplex
Single stage units best for low demand applications up to 135psi, two-stage units can meet higher demands, offering pressures up to 175psi, with higher duty cycle pumps
Fully enclosed belt guard and ASME safety valves
Pilot valve control on gas drive units to reduce engine speed on low demand
To learn more, visit www.atlascopco.com.