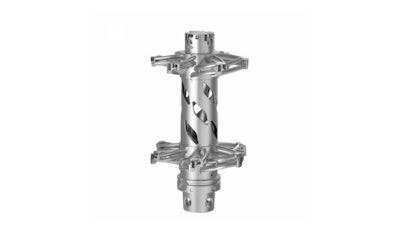 Kennametal
Kennametal has developed a 3D printed stator bore tool specifically designed to meet growing customer demand for lighter weight tooling solutions used to machine components for hybrid and electric vehicles.
E-mobility components are typically machined on smaller, low horsepower CNC machining centers that require lighter weight tooling solutions. Kennametal's 3D printed stator bore tool weighs half that of the conventionally manufactured version, while still meeting accuracy, roundness, and surface finish requirements for aluminum motor body boring.
Bruetting and Kennametal's Solution Engineering Group turned to the company's in-house additive manufacturing capabilities to 3D print a strong but lightweight indexable tool, equipped with proven Kennametal technologies including fine adjustable RIQ reaming inserts for high precision finishing and a KM4X adaptor for maximum rigidity.
The tool also features internal 3D printed cooling channels that help maximize productivity and tool life.
Learn more at www.kennametal.com.