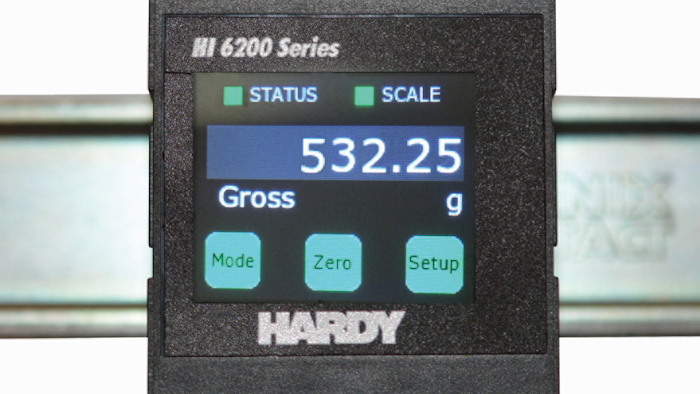 Hardy Process Solutions
Hardy Process Solutions
The Hardy HI 6200 series are high performance single-channel weight processors featuring either 4-20mA Analog or EtherNet/IP.
The new HI 6200 Analog Transmitter is ideal for OEMs and System Integrators building machinery where fast, stable weight data is a critical component to successful design. Powerful state-of-the-art hardware design, combined with Hardy's WAVERSAVER filtering technology ensure fast, stable weight readings in even the most adverse conditions where mechanical vibrations can plague process control. 
Through the color, touch-screen interface, the new HI 6200 Analog has access to advanced features such as C2 electronic calibration, Zero and Tare functions. The HI 6200 EIP version uses a proactive scale design with bi-directional communications to reap the benefits of IIOT device-level connectivity though the built-in Webserver or directly via the UDP layer.
Ultra-compact at just 2 inches wide and 3 inches high, the HI 6200 series are designed for machine level integration in process skids or manufacturing equipment. 
For more information, visit www.hardysolutions.com.