AutomationDirect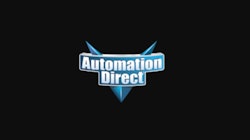 Automation Direct
AutomationDirect announces the NITRA GVP series pneumatic miniature solenoid valves.
These two- and three-port valves are an excellent choice for many automation applications with low flow requirements, typically used for on/off flow control or with single-acting cylinders.
GVP series 12 or 24 VDC solenoid valves are available in 10mm and 15mm valve widths and in 2-way or 3-way normally closed configurations. Latching solenoid valves are available in 3-way normally closed configuration and will stay open after being momentarily energized. 
Used with GVP series valves, NITRA GM-3 series compact, precision machined manifolds are available in single to 6 stations for 10mm manifolds and in single to 4 stations for 15mm manifolds. 
To learn more, visit www.automationdirect.com/mini-solenoid-valves.