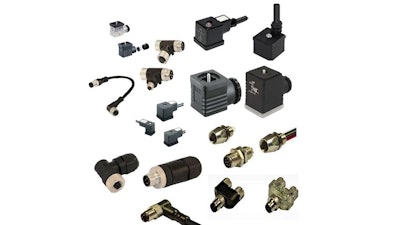 Norstat (Rockaway, NJ) offers an extensive line of DIN Valve Connectors as well as Circular M8, M12, M23 and 7/8" Connectors in a multitude of styles, sizes and options.
These Valve Connectors are available as field wireable versions or as molded cable assemblies. All DIN Connectors are available in square, rectangular or micro versions, forms A, B & C. Sizes include 8mm, 9.4mm, 11mm & 18mm and are available with either Diode, Varistor or Full Wave Bridge Rectifier. DIN Connectors are also offered with LEDs for status indication. The Molded Cable Assemblies come in various lengths and all molded cables can be ordered with either PVC/PVC or PUR/PUR cable material.
Circular Connectors are available in M8, M9, M12, M23 and 7/8" versions. All Circular Connectors come either as field attachable, panel mount or with molded cables and each connector is available in either a straight or angled (90 degree) version. Housings can be either plastic or metal with a protection rating of IP 67 / IP 69. All connectors are available with a variety of contact options as well as male or female housing types.
www.norstat.com, 973-586-2500