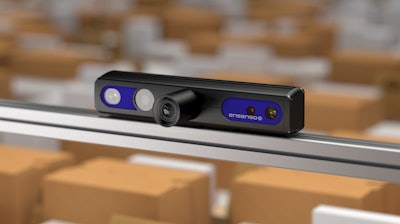 With Ensenso C, IDS (Stoneham, MA) presents a stereo vision camera that not only generates 3D point clouds, but also delivers 2D images in color (RGB) thanks to an additionally integrated image sensor. This enables realistic 3D images and supports subsequent processes – for example, when the images are to be further processed to perform sorting tasks.
Its compact housing is completely enclosed and complies with protection class IP65/67. This reliably protects the components from environmental influences and vibrations. In addition, the camera is delivered pre-configured and is thereby ready-to-use. Ensenso C is suitable for the automation of many industrial processes, such as in quality control, on assembly lines or for picking tasks.
Initially, the 3D camera is available with a baseline of approx. 240 mm; soon additional models with a baseline of approx. 455 mm will be offered. Thanks to the combination of powerful 200W projector power and the high resolution of 5 MP, the camera delivers precise data even in large-volume applications.