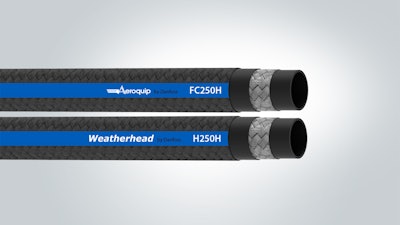 Danfoss
Danfoss Power Solutions, a leading global supplier of mobile and industrial hydraulics as well as electric powertrain systems, has launched its Aeroquip by Danfoss FC250H and Weatherhead by Danfoss H250H hoses. Designed to exceed SAE 100R5 performance levels, these two-braid hoses are lighter and more flexible than typical three-braid 100R5 hoses, enabling easier hose routing and reducing application weight.
FC250H and H250H hoses are tested to 300,000 impulse cycles, surpassing SAE 100R5 performance levels. The hoses weigh 20% less than conventional three-braid hoses, decreasing the overall vehicle weight and delivering fuel consumption savings over the life of the machine. With half the bend radius of the 100R5 requirement, a 25% tighter bend radius than competitive hoses, and a 15% smaller outer diameter than the 100R5 maximum, FC250H and H250H hoses are designed for the tight spaces common on today's machinery. The hoses offer increased routing flexibility that enables engineers to optimize system design without sacrificing performance.
"The key to improving machinery total cost of ownership and return on investment is performance. But system performance is only as good as the sum of its parts. Our Aeroquip FC250H and Weatherhead H250H hoses set the bar for 100R5 hose performance in a sleek, lightweight profile, exceeding the requirements of today's rugged work environments," said Mike Stoltz, FACTS product manager – Americas, Fluid Conveyance, Danfoss Power Solutions.
FC250H and H250H hoses use a universal flat crimp fitting for easy installation and assembly. Unlike less versatile bubble crimps, the flat crimp design delivers a smaller profile that reduces installation complexity and saves up to 70% over the cost of bubble crimp tooling.