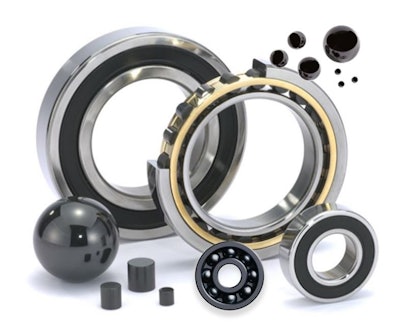 SKF
The pump industry is rapidly evolving, and innovations in bearings will be needed to keep pace, according to engineers from Swedish manufacturer SKF.
Paul Dietl, SKF fluid machinery industry manager, and Christoph Auer, business development engineer for angular contact ball bearings, addressed pump bearing design challenges and solutions in an online presentation last week.
Dietl noted that pumps are the second-most frequently used machine in the world — with pumps outnumbering employees at a typical processing plant — and that many of the world's challenges will need pump technology to address them. He particularly pointed to demands for water and sanitation systems — including tens of millions of dollars in water projects across the U.S. alone under a proposed infrastructure package.
Dietl and Auer said the company's bearings can help offset or solve many of the common problems facing the pump industry, from vertical design solutions and self-aligning systems to brass cages for high-speed applications and hybrid ceramic bearings that run significantly longer than steel ones under tough conditions.
In addition to conventional issues such as lubrication, alignment and corrosion, the engineers also noted that companies increasingly want pumps that are energy efficient, integrated, maintenance-free and able to be outfitted with sensors, connected technology and machine learning.
The company's fiber optic sensing technology, for example, embeds bearings with glass fibers and just two cables running from the system. By sending light through the fibers, users can monitor load, flow, alignment and other factors in real-time.
"Now, we can really measure it live during the operations," Dietl said.