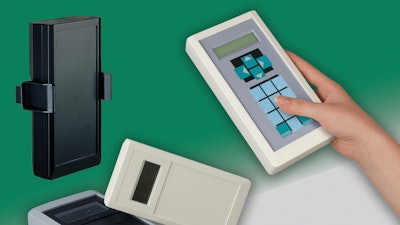 OKW
OKW's robust DATEC-MOBIL-BOX handheld plastic enclosures are now available in seven versions. They are rated IP 65 (optional) for use in harsh environments.
High-performance DATEC-MOBIL-BOX is ideal for mobile data recording and transfer, measuring and control, and stock and sales logging.
Six versions of DATEC-MOBIL-BOX are designed to house a wide range of standard LCD displays including Type 2"-LC-Glass Module, Type 2 x 16 (compact and standard), Type 4 x 16 Standard, Type 2 x 20 Miniature and Types 4 x 20. The seventh version has no display window.
All DATEC-MOBIL-BOX enclosures combine comfortable ergonomic curves with flat surfaces for installing interfaces. The top is recessed to accommodate a membrane keypad. Inside, there are mounting pillars for PCBs.
DATEC-MOBIL-BOX is available in sizes S 5.98″x3.27″x1.32″, M 7.68″x3.98″x1.73″ and L 9.92″x4.76″x1.97″. All the enclosures are molded in ABS (UL 94 HB) as standard. They are offered in two standard colors: off-white (RAL 9002) and black (RAL 9005). Custom colors are available on request.
Accessories include a soft-touch SBS (TPE) protector, wall suspension elements, tilt foot bars for desktop use, sealing kits, battery compartments (4 x AA, 1 x 9 V, 2 x 9 V), battery clips, PE foam battery spacer, 1 x 9 V contact kit, 1 x 9 V plug-in contact, display window borders, anti-slide feet, ring eyelet and self-tapping screws for PCBs.
OKW can supply DATEC-MOBIL-BOX fully customized. Services include machining, lacquering, printing, laser marking, decor foils, special materials, RFI/EMI shielding, and assembly of accessories.
For more information, view the OKW website: https://www.okwenclosures.com/en/Plastic-enclosures/Datec-Mobil-Box.htm
OKW Enclosures, Inc.
Tel. (800) 965-9872
Email: [email protected]