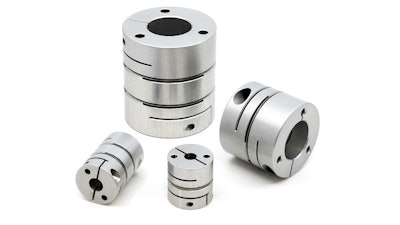 Stock Drive Products/Sterling Instrument (SDP/SI; Hicksville, NY), a Designatronics company, expands its selection of flexible couplings to include the single disk type couplings (short type) – series S50XHSM – and the double disk type couplings (standard length type) – series S50XHWM. The disk type flexible couplings are an economical option while providing greater torque capability and improved performance in a reduced size.
The compact design provides torque ratings of 0.6 up to 12 Nm, an improvement over similar products. The single disk type flexible couplings, S50XHSM, features 16.5 thru 32.8 mm lengths, 15 thru 39 mm diameters, bore diameter combinations 3 thru 12 mm and weights of 6.8 thru 84 grams. S50XHWM double disk type couplings feature lengths of 22.4 thru 46.6 mm, 15 thru 39 mm diameters, bore diameter combinations 3 thru 12 mm and weights of 9.4 thru 123 grams. Other bore combinations and bore sizes are available on special order to accommodate end-user requirements. The disk type couplings are constructed of anodized aluminum hub and spacer with stainless-steel disk and collar. The stainless-steel disk permits eccentricity, angular alignment and end play.
Device manufacturers can benefit from the smaller size and reduced weight while gaining greater torque capacity and power. As a high-performance motion control coupling, disk type couplings are well suited for applications where precise position accuracy is required. Because of its flexible design, zero backlash, high torque capacity and ability to accommodate shaft misalignment they are ideal for use with servo motors as an integral machine part in a variety of equipment where high-precision XY stages and index tables are used, such as welding machines, 3D printers and high-precision CNC equipment.