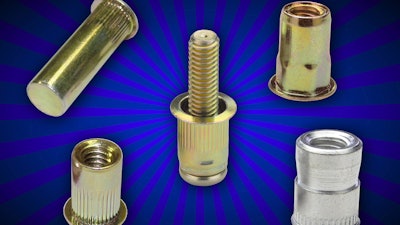 PennEngineering
PennEngineering announced ATLAS SpinTite blind threaded inserts for thin sheet applications with only one-sided access.
Installation is performed from the accessible "front" side, using spin-spin tooling technology, and the inserts become permanently mounted on the "back" side to accept a mating screw for final component attachment.
Blind installation capability especially suits applications such as tubing, extrusions and others where access to the back side is either limited or nonexistent
Steel, aluminum, brass or stainless steel inserts ideally replace tapped holes, weld nuts, rivets, self-drilling or tapping screws, and through-bolted applications necessitating loose hardware
Supports close-to-edge applications and can be installed at any stage during the production process
For more, visit http://www.pemnet.com.